My name is Kurt Schaefer and I've been part of the RBB family for 13 years this October. While the focus of my career has been in and around sales, my specific role has shifted with the needs of our electronics manufacturing business. This has made my experience here most interesting over an extended period of time. It's not about what title you hold when you're part of a team. It's about doing your part to help the company succeed.
Role #1: Business Development
When I was hired by RBB our largest customer experienced a drastic downturn in their business, which had a huge effect on our company. Filling the gaps became top priority. Business development was critical to our long term health and I was prepared to help in any way possible.
Making cold calls became part of my daily routine. Luckily, reaching out to strangers wasn't new to me after spending four years at Michigan State calling Alumni to raise funds for various college

campaigns. Our prospecting efforts were successful as we gained new customers during the first couple of years. Many of them are still with us today!
Role #2: Account Manager
While continuing to establish new accounts and getting familiar with the systems used at our company, it was time to nurture some of our existing, mature customers. Many of my strongest business relationships took form during this period of time, which made me feel even more invested. We value our core customers, and appreciate the consistent business they bring to our electronics job shop. Making sure they are taken care of is on our minds daily.
Role #3: Customer Program Manager
As our business continued to grow through new and existing opportunities, establishing processes for documentation storage and quoting became critical. I was asked to step away from the outside sales role and into one that was more internally focused. Being consistent in how we gather and store project documentation proved to help manufacturing efficiency. We build up to 800 unique assemblies each year and roughly 200 of them are brand new to RBB. As you can imagine, staying organized is key!
Role #3: Inside Sales Manager
Over time, the processes we had established to handle documentation became second nature, but we needed to train more individuals to do the same work. I was asked to lead this effort by working with our Customer Service Specialist and Customer Program Manager trainee. Cross training within the sales department elevated our ability to serve small batch customers.
Role #4: Sales Manager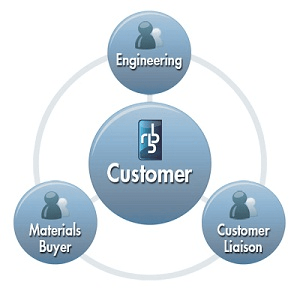 Communication within the sales department was at an all-time high, so we decided to restructure our office into Customer Centric Teams, or CCT's. Each CCT consists of a Customer Liaison (Customer Service Rep), Engineer and a Buyer. The teams are assigned to specific customer sets to insure current priorities are handled properly. This type of structure allowed me to shift focus yet again to outside sales in many ways. Staying visible to our customers as new assembly opportunities arise can only help, but in order to be a manager you must also be able to interact with the team on a regular basis. It became clear that we needed more feet on the street.
Current Role: Sales Manager (continued with added responsibilities):
My title hasn't changed, but we decided to assign one of our Customer Liaisons (Ryan Gilson) to be a Business Development Specialist with a focus on outside sales. At the same time, we added a seasoned EMS veteran to the team (Tim Benincasa) to develop Ryan and help bring in new opportunities. With more opportunities come more quote activity. I now lead our Quote Team made up of a seasoned Buyer and Engineer. Digesting quotes faster with more accuracy in this competitive environment is the goal.
As you can see, my roles may have changed over the years, but the bottom line has not – Make Customers Happy. You must be flexible, have the ability to multitask and keep commitments in order to thrive in this environment. Only the strong survive!
As the Sales Manager of RBB, Kurt is extremely detail-oriented and knows how to get things done in the often complex world of small batch assemblies. Kurt has been with RBB since 2001 and is a solid performer whose tenacity in serving his customers is outstanding.