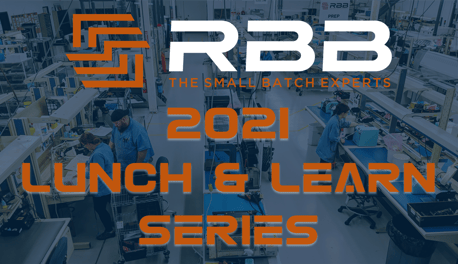 Registration is now open for RBB's 2021 Lunch & Learn Series! Each session includes a hands-on presentation, FREE lunch (in person participants only), networking, and RBB facility tour.
All sessions will be held at RBB (1909 Old Mansfield Road, Wooster, Ohio 44691) or virtually.
All are welcome to attend- please pass this invitation to your team members & colleagues!
Session 1: May 18, 2021; 11:30 a.m. - 1:00 p.m. (Registration Closed
Challenges in the PCBA World: BGA Processing, Inspection, & Rework - A Live Techni-torial on Ball Grid Array Manufacturing
Presented By Johnny Vanderford, Lorain County Community College
Session 2: August 17, 2021; 11:30 a.m. - 1:30 p.m.
Challenges in the PCBA World: Cyber Security
Presented by Ed Yenni, Logisync
These are all FREE events, but registration is required. For more information, please contact events@rbbsystems.com.
Previously, RBB hosted four great sessions in our 2019-2020 Lunch & Learn series, "How to Save Money in a High-Mix, Low-Volume World." Topics included: DFM (Design for Manufacturability), Industry Trends, Reducing Bare Boar Costs, and IoT (The Internet of Things). Let us know what you want to talk about next!