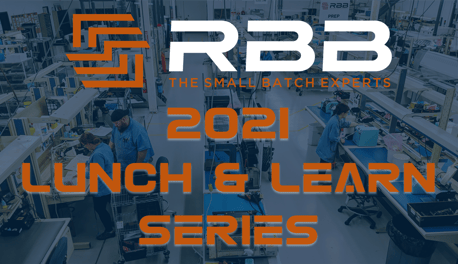 We are pleased to announce that our August Lunch & Learn will be a hybrid format- available both in-person & virtual.
Registration is now open for RBB's 2021 Lunch & Learn Series! Each session includes a hands-on presentation, FREE lunch (in person participants only), networking, and RBB facility tour.
All sessions will be held at RBB (1909 Old Mansfield Road, Wooster, Ohio 44691) & virtually.
Challenges in the PCBA World: Cyber Security: Presented by Ed Yenni, Logisync
August 17, 2021; 11:30 a.m. - 1:30 p.m.
Cybersecurity should be foremost on everyone's minds, and today's IoT-connected devices are ground zero for threat actors. Join us for RBB's Lunch and Learn Series.
This session will explore how manufacturers of electronic products must carefully manage Cybersecurity and Intellectual Property protection issues when working with a CM. We'll explore topics such as:
The Nature of Malicious Activity
The Risks of Complacency
Emerging IoT Security Regulations Standards
Layers of Security
Checklist for Manufacturers of Products with Firmware
Real-World Examples
Free lunch is included for in-person attendees.
All are welcome to attend- please pass this invitation to your team members & colleagues! This is a FREE event, but registration is required. For more information, please contact events@rbbsystems.com.
Past Session: Challenges in the PCBA World: BGA Processing, Inspection, and Rework WATCH NOW