The Importance of Thorough Onboarding
Many companies today are realizing the importance of a thorough onboarding process for their new employees, and are improving their orientation plans accordingly. Getting new employees acclimated to the company quickly is beneficial to both the employee and your company. The first 90 days is fundamental - the behaviors, habits, and attitudes developed during this time will likely determine their success with your company. It's your responsibility to give them every possible tool, training, and bit of information available so they can hit the ground running.
At RBB, we approach onboarding with the same continuous improvement mindset that we apply to all our processes. There are unique challenges in the electronics contract manufacturer environment, however. The product mix being built is always varying, change-overs are very fast paced, and what was built the employee's first week on the job may not be built again for weeks or months. So how do you provide consistency when introducing new employees to this atmosphere? The following steps are keys to our process – maybe they can help you, too.
RBB's Onboarding Process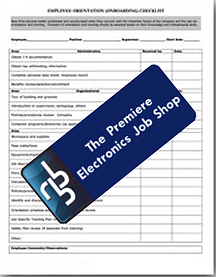 Make a list. An orientation checklist contains all the details you need to cover before, during, and after the new employee's first day. Even the most obvious things can be overlooked if they aren't on a checklist. Include everything from getting the new employee's workspace ready and stocked with supplies, to training required in the first few days, through scheduled follow-up dates once the employee is off and running.

Establish a connection with the new hire early. Place a welcome phone call in the week prior to the employee's start date to discuss things like the schedule for the first few days, parking info, or the availability of local restaurants. This also gives them an opportunity to ask any questions they may have. Follow the call up with a welcome package. You can send the new hire many of the forms they'll need to fill out (withholding forms, emergency contact info, etc…) so they can complete them in privacy and where they have necessary information readily available. You could also include your mission statement, organization chart, their job description, a provisional calendar that details what they can expect their first couple of weeks, your employee handbook, or a small welcome gift such as a coffee mug or pen.

Prepare your team so they know who the new hire is, when they're coming, and what they'll be doing. Share your expectations so team members know what roles and responsibilities they will fill on the new employee's path to success.

Once the new employee arrives, don't leave them alone with a stack of paperwork. Give them your time and the attention they deserve, so they know that their success is important to you. If you must leave them briefly, apologize, let them know when you'll return, and connect them with someone else who can help them if needed during your absence.

Throw a welcome lunch during one of the employee's first few days. This provides a relaxed atmosphere for the employee to get to know their new co-workers and build relationships. Those relationships will be an important support structure once the employee settles into their new role with quickly changing product requirements.

Don't try to do it all in the first few days. Throwing too much information at the new employee in too little time to absorb it all isn't helpful, it's stressful! Make sure your plan spans at least a couple of weeks, and build in a little open time to compensate for unexpected changes. (Remember, this is an electronics contract manufacturer environment, so change is expected!)

Mix it up a bit. Don't bore your new employee with mountains of the same thing for hours on end. Do some paperwork, then move around on a tour and meet people, then maybe view some training videos for a while. Keep it fresh and introduce other co-workers by asking them to conduct a safety orientation or an overview of your computer system – whatever makes sense to keep things interesting and moving forward.

Set clear expectations, both for the orientation period and for once the employee is settled into their new role. Make sure they know who to go to for help achieving their goals.

Train, train, train!!! The new employee will need any required compliance or certification training as soon as you can provide it, so they aren't delayed on the path to productivity. Provide plenty of opportunities for on-the-job training, inter-departmental cross training, computer skills improvement, or whatever makes sense for your company. The best employees want to keep learning – give them plenty of chances!

Once the new hire is turned loose in their new job, follow up with them frequently. Do more than just ask how it's going; ask them to demonstrate skills or concepts learned during orientation, so you're certain they understand everything they need to. Get feedback from them on improving the orientation process. They know best what was helpful and what wasn't. Just make sure to communicate any changes made as a result of ideas they shared to show your trust and appreciation in them.
Once these steps have been followed, your new employee will have a solid foundation to build from. Then, even the excitement of frequent change and high complexity work in an electronics contract manufacturer environment won't be too great a challenge to your employee's success, and yours! If you are interested in learning more about the RBB environment, check out our company video or schedule a visit.
Kate Mick has been RBB's Organization Development Leader since 2010. She is responsible for all training and development activities, and has been involved in employee training for more than 12 years.