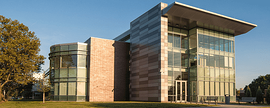 Last Thursday, February 7th, RBB members attended the Smart Business "Evolution of Manufacturing" Awards Luncheon at Cuyahoga Community College's newly opened Advanced Technology & Training Center (ATTC).
During the lunch, Smart Business welcomed all of the honorees and introduced a representative of Tri-C who welcomed everyone to the new facility. Next a representative from each company receiving an award were given an opportunity to introduce themselves and give some background on their company, what they do and why they were chosen to receive the award. In addition to RBB Systems, honorees include Visual Marking Systems, R.W. Beckett, Vitamix, H.C. Starck, Saint-Gobain Performance Plastics, Voss Industries, ArtiFlex Manufacturing and Superior Products.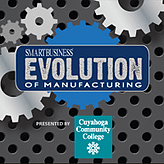 The exchange showed a lot of innovation and boldness as the Honorees described how they were meeting the demands of their customers and the business in novel ways. Several new relationships were immediately formed between the Honorees as kindred spirits recognized one another. Each Honoree is paired with a Sponsoring company for the big event night on February 21st. The sponsors briefly described why they felt privileged to support Northeast Ohio manufacturing through the Evolution of Manufacturing Awards. Sponsors include Meaden & Moore, Tri-C, Ohio.net, Duffy + Duffy Cost Segregation, Roetzel & Andress and KeyBank.
The luncheon concluded with an in-depth tour of the venue, where sponsors and honorees had an opportunity to meet and mingle with one another. Award night promises to be a festive evening of fun, good food, and well-deserved recognition for these progressive local firms, stay tuned for a blog post highlighting this great honor!
For forty years at RBB, Ross has done just about all there is to do with industrial technology. As Project Specialist, Ross is a no-frills, hands-on guy who is intimately familiar with all aspects of panel design, assembly, installation, and test.