As the Manufacturing Manager at RBB Systems, I oversee the manufacturing of complex circuit boards and custom electronic assemblies, making sure they are built to IPC Standards and are ISO 9001 certified.
Clearing The Path
Did you know that early automobiles had no rear view mirrors? Today, most state DMVs teach students to look in their rear view mirrors often. To keep safe, we need to be aware of people changing lanes, large vehicles gaining speed on steep hills, and tailgaters. Making changes and clearing the path for new ideas (like rear view mirrors) are both essential components to successfully leading others.
Good leaders clear the path so the workers can do their job. They make sure they have everything needed to get the job done on time and right the first time. They provide the vision, the training and the tools to succeed. Good leaders need to have vision and to inspire others to see and believe in that vision. They also must not leave anyone behind. Sometimes we find that new vision and decide that is now the direction that we need to go. We plan, strategize and make goals and milestones to track our progress.
After introducing anything new, we need to take the time to audit our process and people. We must train well and instill the fundamentals. Too often I have seen training and testing done, yet the people do not truly understand – even though they may have passed a test. (I have seen some pretty good test takers!)
Take Advantage of Teachable Moments
There are nothing like teachable moments. We take opportunities to point out any error, no matter the size or cause. As a builder of small batch custom electronic assemblies, RBB-ers see many projects every day. We must understand the process, not just the product. We bring all issues to our team and discuss the process, what went right and what if anything went wrong in a "non-blaming" environment. We discuss it as a process, not finger pointing. Were the documents clear? What training needs improved? What do our standards call out? There are nothing like real-life examples to drive home training.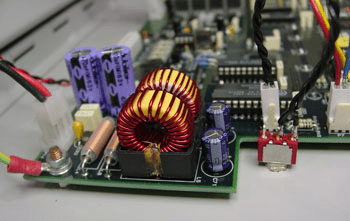 Hiding or covering up issues helps no one and hurts the entire business. Facing the reality and sharpening the process grows both individuals and teams. This takes time and trust before you get buy-in from most people. A very wise man once told me, "If you learn from your mistakes, call it tuition; if you learn nothing from it, you've just thrown away good money."
We try to instill that here every day. Our Assembly Supervisor, Jason, has a teachable moment every Tuesday and Thursday as we "Huddle" to discuss how we are doing and where we are going as a team. We take time to look at examples and compare them to our IPC Standards on electronic assemblies. This helps drive the learning to another level and brings life to the standards.
My Tips for Leading in a Custom Electronic Assemblies Environment:
Be sure your team is both seeing the vision and keeping up.
Lend a hand and help them when needed.
Audit them and your processes to be sure the team is on tract.
Be certain that the people are following the vision and the plan.
Set the example.
I conclude with the John Maxwell quote, "He who thinks he leads, but has no followers, is only taking a walk."
Do you already implement like techniques at your manufacturing business? What are the traits you believe are necessary when leading?
Let me know below or send me a tweet with your thoughts and practices.
Dave recently joined RBB with over 25 years of manufacturing experience, specializing in creative visionary leadership. With a degree from Kent State University in mechanical engineering, Dave helps drive continuous improvement, effective problem solving and troubleshooting.