"We exist to move Heaven and Earth to get our small batch customers, what they need, when they need it." "Even if it blows up the schedule." A bit of humor, but we've all been there, the customer calls and says that they need "WHAT" by "WHEN". In today's LEAN electronic manufacturing environment, short lead times and quick turns are essential to our customers. It's now up to us to make it happen.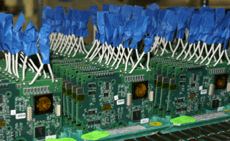 I've been with RBB Systems for almost nine years now and have grown accustomed to, and can appreciate the one of a kind service and flexibility that RBB offers our customers. I have left the building on more than one occasion, knowing that we have "saved the day" for one of our customers. We do our best to schedule upfront using Material Requirements Planning and Capacity planning tools, but the truth is, every day we face variables like customer expedites, that require our flexibility.
A few of the everyday challenges that many small batch electronic manufacturing shops like RBB may face:
Component lead times
Little to no forecast
Quick turns
Engineering changes
Stock outs
Capacity shortages
Machine down times
Variable job sizes
700-800 hundred unique assemblies per year
Electronic prototypes
With all of these variables, how do we manage to get our customers what they want, when they need it? We react. We know there will be changes to the schedule, as our customers' needs change daily, there's only one way to handle the fluctuations in an organized manor, we have to adapt. There are several ways that we react to the inevitable everyday instabilities in a job shop. Here are a few examples….
The Snake - Capacity numbers are shared daily during a morning huddle. This provides a breakdown of number of available capacity hours (how many people hours) vs. the number of planned capacity hours (how much work). From the mouth of the snake, (Materials Kitting) all the way to the tail, (Testing), giving us a day by day view to which Work Centers are over capacity, or in need of help. This is where swarming comes in; RBB employees are cross trained to be able to move from one work cell to another to help break up bottlenecks or surges that can occur.
Flexing Shifts - We run split shifts to keep machine utilization to a maximum when necessary.
Overtime - We use overtime to manage spikes, keeping employee turnover to a minimum.
Re-evaluate Work Flow - We review and adjust operation start and finish dates daily to keep good flow, fill gaps, and manage customer accommodations.
Component Stocking Agreements - Some customers keep an agreement with RBB to Kanban certain higher running assemblies, assuring minimal lead times.
It's a known reality at RBB that one day will not be like the next when it comes to workflow. We have accepted the unique challenges that come with running small batch jobs. It is our versatility and ability to re-mold ourselves daily that helps us excel at this.
Curious about RBB? Watch our company video to learn about our unique atmosphere! To find out more about how we move heaven and earth for our customers, check out our customer testimonials.
Amy has been a member of the RBB team for 9 years. Currently working as the Master Scheduler, she has additionally served in Management and Inventory roles. In her free time, Amy enjoys spending time with family, shopping, movies, music, hiking and outdoors in general.