1973: The Early Years
In 1973, three college friends started working together in a basement.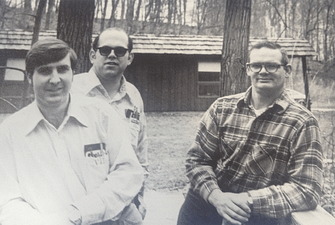 Barry Romich, Dick Beery, and David Bayer had all attended Case Institute of Technology in Cleveland. For nine months, the engineers worked to create a company that started just like many others – friends and colleagues combining their distinct expertise to build something new. In this case, however, these three electronic engineers were able to provide unique solutions that their customers could not find elsewhere. This unique ability to provide custom solutions has been the cornerstone of their efforts for 40 years.
After just nine months, in the fall of 1973, an office and manufacturing facility was constructed for the Romich, Beery and Bayer. The new RBB headquarters was located on a 160 acre farm in northern Holmes County. Each of the three principals built their homes on the farmland and were able to walk to work. Shortly thereafter, the first two employees – Larry Rufener and me, Ross Lilley – were hired.
In the first 10 years, business was built upon referrals and contacts in the business community that the three principals had formed during their previous employment.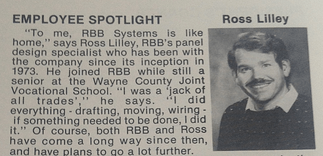 Their work centered on the industrial system needs of local companies, mostly centering around a line of logic cards that was developed by Dick Beery. (This period was before PLCs and microprocessors!) This was the start of RBB being involved in both the systems and electronic assembly worlds. We were able to do the electronic designs required as well as etch the boards, assemble the system, and install it at the customer's site.
The business continued to grow and RBB became well known in Northeastern Ohio.
1982: Transition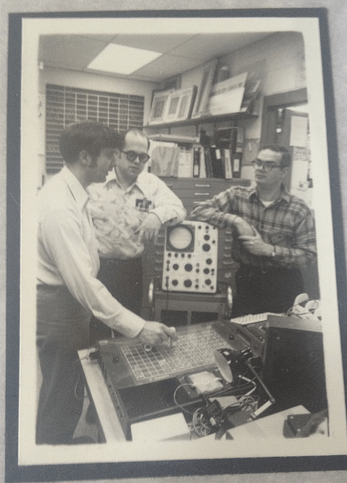 After almost 10 years in business, working together and living in close proximity, the three principals began to realize that their individual long-term goals differed. Barry, in addition to his work with RBB, was owner of Prentke Romich Co., which provided equipment to the physically handicapped. David developed a wheelchair control system to assist high-level quadriplegics, which had become a profit center for RBB. Dick, meanwhile, was involved in the system integration field and was starting to become well known for his work in the area. The logical result of these varied interests and goals was to split the company.
In 1982, Barry was bought out and turned his efforts to Prentke Romich. David purchased the assets of the wheelchair profit center, kept the shell corp. of Romich, Beery and Bayer, and formed Du-It Controls. Dick purchased the land, buildings, inventory, equipment, and officially changed the name to RBB Systems, Inc., "R," "B" and "B," for the first initial of the founders' last names.
An amicable split, RBB rented space and people to the other two companies. After several years PRC moved to Wooster. Eventually David sold Du-It and they moved out also. RBB Systems, Inc. was now the sole occupant of the Shreve facilities and was poised to grow – and it did beyond all expectations.
RBB began to expand by adding sales and engineering staff. Four key areas of the business developed:
Engineering
Systems Integration
Electronic Assembly
Service
2000: RBB Blossoms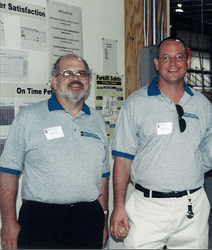 In 2000, Bruce Hendrick joined RBB, and, in 2001, Dick asked Bruce to step in as President. In 2004, he became CEO.
RBB completed a facility consolidation at their current location at 4264-C East Lincoln Way, Wooster, and the Shreve facility was shut down in 2007. In the fall of that year the CEO and Board of Directors made the decision to outsource engineering services and concentrate exclusively on building small batches of electronic assemblies.
2008 was the year of new direction with RBB rebranding itself as "The Premiere Electronics Job Shop" and incorporating the mantra, "We're big in small." With this new branding came a new way of thinking about the manufacturing process; our Job Shop implementation is highly uncommon. Rather than fine-tune work cells to eliminate waste, RBB has learned to efficiently "Swarm To The Need" by marshaling resources (parts, people, and equipment) to the orders themselves. We then quickly disband and reconfigure ourselves to accommodate the very dynamic schedule and product mix.
With our last remaining founder, Dick Beery, retiring after many years of serving RBB, 2009 was a year of highs and lows. Like many companies, RBB was caught in the general recession that gripped the nation, and we decided to structure our operations so we would be in good position when the recession ended. In one of the many ongoing improvement activities, we launched a LEAN initiative to concentrate on Small Batch Builds. The Lean initiative resulted in an extensive restructuring of the production floor to optimize product flow to support small batch builds.
By early 2010, RBB began to rebound and staffing was increased by 33% above its low point during the recession. The following year, RBB received ITAR (International Traffic in Arms Regulations) registration from the U.S. State Department, allowing us to serve the small batch needs of customers who provide material for Military applications.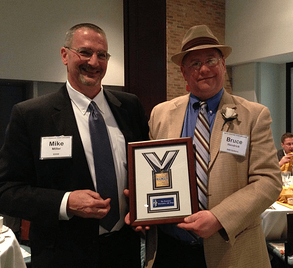 Always evolving, in 2012, RBB formed Customer Centric Teams or (CCTs). To better serve our small batch customers, Sales, Engineering and Support were formed into teams consisting of one person from each of the three groups. Each CCT has a specific list of customers they are dedicated to serving. This gives the team the opportunity be become more familiar with their customers' unique requirements and provide individualized and personalized service.
So far this year, RBB has been the recipient of the Smart Business "Evolution of Manufacturing" Award, a 2013 Leading EDGE Award for Value Creation in Northeast Ohio, and celebrated 40 years of business.
This 40 year-old company has seen many peaks and valleys in its history. RBB has weathered the good and the bad times throughout these years and is poised for the future. From the basement of three engineers to a LEAN manufacturing facility, RBB Systems is a 40 year story of success.
Check out our digital scrapbook and interactive timeline highlighting RBB's rich 40 year history.
For forty years at RBB, Ross has done just about all there is to do with industrial technology. As Project Specialist, Ross is a no-frills, hands-on guy who is intimately familiar with all aspects of panel design, assembly, installation, and test.