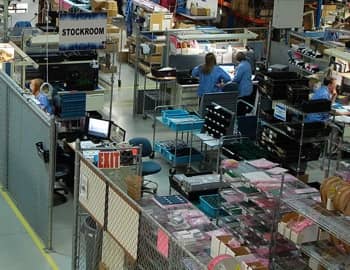 Do you spend days counting parts for your annual inventory? Are you shutting down your shop floor for days just to get decent counts? If so, there may be an alternative that will eliminate the need to shut down production and also deliver better results. This alternative is a method known as cycle counting, and whether you're a global manufacturer or a privately-held company, you may stand to benefit from this process. In fact, we here at RBB, have experienced numerous benefits since we switched to this process and I'm going to explain why.
Annual Inventory vs. Cycle Counting
While an annual physical inventory is great at providing counts after the completion of a full manufacturing year, it doesn't always provide trust in inventory. For instance, you have probably brought in temps or other non-inventory savvy personnel from your shop to count your inventory. Unfortunately, while this practice may seem efficient, it also leaves room for error.
By implementing cycle counting, the process of counting smaller subsets of inventory more regularly throughout the year, you are counting your inventory daily instead of annually which means that you're able to isolate issues and catch and fix errors immediately. Since consistent counting helps with accuracy, this provides more reliability and trust in inventory counts.
Cost Comparisons:
The cost of switching from an annual inventory model to a cycle counting model is often a concern. Switching to cycle counting doesn't mean that you have to employ a full time cycle counter. This depends on your inventory levels and your company's goals. Having one or two employees on staff with counting expertise may actually be sufficient.
Even so, if an annual count still seems less expensive than hiring a full time cycle counter or allocating daily inventory counts to your existing personnel, you may want to ask yourself the following questions:
How much did that 3 to 5 days of counting cost in hourly labor? How many employees were involved?
How many mistakes will need to be fixed right after the annual inventory?
How much product could have gone through my shop in that time frame?
What was the cost of having the operations shut down during the inventory process?
How many customers were inconvenienced?
While cycle counting may not be the answer for all companies, it is important to weigh the pros and cons. If your current inventory process isn't working the way you need it to be, you just might be surprised at how a shift in your inventory process can change the way your business operates.