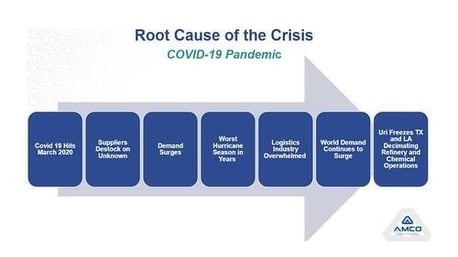 At RBB, our customers are our first priority. As our country continues to recover from the impact of the pandemic, we wanted to reach out to share the challenges we (and many other businesses) are facing. There have been significant raw material shortages and supply chain issues which are contributing to extended product lead times, as well as price increases. As a result of these challenges, you may see some price increases along with varying lead times and product availability. Delivery commitments are given in good faith, based upon the best information present at the time of quotation, but may change due to conditions beyond our control.
Rest assured, RBB is aware of the evolving situation. We're searching the globe to find products in short supply and will continue to provide the best pricing possible.
Some examples of long lead times we are seeing:
Bare PCBs due to raw material issues with glass fiber & precious metals.
Epoxy & resin, which are used in the manufacturing of PCBs, as well as potting and coating.
Components include chip resistors, MLCCs, power MOSFETs, certain types of ICs, transistors, connectors, diodes, capacitors, and transformers.
Raw materials have become a national concern. In many cases supply is noted to be frozen for the remainder of the year. Causes include pandemic shutdowns of offshore raw material providers, cargo shipping disasters, boats stuck in canals, and winter storm outages caused by the Texas energy crisis.
We encourage you to be mindful of what your business needs will be in the coming months and to plan accordingly. With the likelihood of continued shortages and supply chain issues as the world recovers from the impact of the pandemic, it's essential to plan ahead for the items you need.
We are thankful for your continued trust in RBB. We promise to keep working hard for you to get through these challenging times!