Want to learn a little more about RBB? Visit us at PCB Carolina 2019!
On NOVEMBER 13th, the RBB team will be at PCB Carolina 2019 in Raleigh, North Carolina.
Attendee registration is now open on PCB Carolina's website. For more information on the show, visit our website.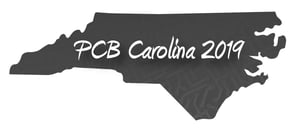 There will be 16 technical sessions, a keynote address, a vendor exhibition with over 70 companies participating, food throughout the day, and best of all, this event is FREE to all attendees.

PCB Carolina is the place to be if you are involved in any stage of electronics: Product Development, PCB Design, Signal Integrity, Electrical Engineering, Thermal, Mechanical, Test, Inspection, Contract Manufacturing, Technician, Debug, Compliance, Analysis, Purchasing, and Management.
The event is from 8:00 a.m. to 6:00 p.m. at the McKimmon Center on the campus of NC State University (1101 Gorman St, Raleigh, NC 27606). RBB will be featured at table 51 - just across from Better Boards!
If you plan on attending, let us know. We would love to set up a time to chat!