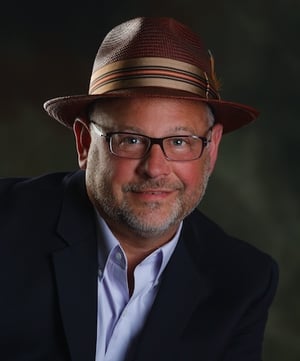 With RBB celebrating our 45th anniversary this year, I've thought a lot about how we got here and what I wish I knew all those years ago. In order to communicate that, I decided to write a letter to my former self. Here is that letter:
To my former self,
Buckle up, Bruce! You're in for a wild ride, one of the best and most memorable journeys of your life.
You're joining RBB at a crossroads in its history. The company is growing explosively right now, propelled mostly by a single client who has gone from 5% to 50% of the business over the past year. You'll soon discover that this is only one in a long line of pivotal moments that have come before you; many you'll overcome with grit, several you'll navigate RBB through at the helm, and there will even be a few where you'll witness your successors pilot the RBB ship.
Along the way, you'll have the privilege of working shoulder-to-shoulder with the most genuine people you've ever worked with. Treasure it, Bruce! Your tendency to "live in the future" helps you lead but it also removes you from the present moment.
Since our founding in 1973, the electronics industry has transformed itself innumerable times. Technologies come and go… as do our clients' devices that employ them… so take it in stride when it happens again. For 45 years, RBB has successfully morphed to accommodate our clients' changing needs (not the other way around), so Bruce: this is true north. Save everyone some aggravation; the sooner you continue to identify and accept the "new" needs, the better!
You will observe dramatic upheaval in the EMS business as contract manufacturers (CMs) merge, fail, or get bought up by conglomerates. Strong, midsize, independent CMs like RBB have frequently disappeared—making our 45-year milestone significant. You will enjoy attracting clients who value working with a progressive, high-tech CM who's as fast and agile as they are.
Bruce, through all the challenges, growth, and opportunities you'll face, I want to encourage you to continue to strengthen and fortify the true backbone of RBB—its culture of trust. Every trust-building investment you'll make along the way, such as communication training, open-book management, incentive pay, tuition reimbursement, the RBB Behaviors, and the Entrepreneurial Operating System (EOS), will pay off in great mojo. Knowing that RBB-ers come to work happy, unified, capable, and excited to serve our clients may be your greatest achievement.
Finally, when you started, there was no way to predict that on RBB's 45th anniversary you'd be moving, again, into a new headquarters building across town to accommodate your business expansion. With a more secure and better-flowing workspace, more professional offices, and room for continued growth, RBB will set yet another new platform for the next chapter of opportunities.
Keep it up. Pass it on. Let the impact of RBB be felt by our clients, team members, and community for the next 45 years!
Bruce Hendrick
CEO and Owner