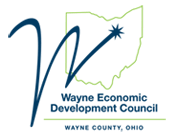 On Thursday, January 16th, 2014, in front of a crowd of 800 local business and community leaders, RBB was greatly honored to receive the 2013 Quality Growth Award from the Wayne Economic Development Council (WEDC) at the Annual Dinner of the Wooster Area Chamber of Commerce.
Rod Crider, WEDC president, said that the award is presented to a business that "has demonstrated its commitment to enhancing [Wayne] county's economic future and quality of life."
Crider went on to say, "RBB Systems was selected because of your transformation from a contract manufacturing 'one-stop shop' into a laser-focused niche business that satisfied a specific market need."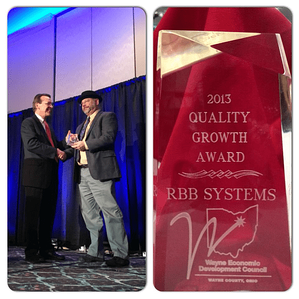 RBB has done business in the Wayne-Holmes community since 1973 and for most of our history we worked from a full service provider business model. But in 2008 the company pivoted. Instead of satisfying a dozen or so ongoing customers with their entire electronic and electrical product needs, RBB decided to optimize its business to provide recurring small batches (1 – 200 pieces is typical) in a fast, efficient, and profitable way. We've invested heavily in people, equipment and expertise to realize the potential of this underserved market niche.
In Crider's letter announcing the award, he mentions "We also appreciate your adoption of lean manufacturing techniques to help in the effort. As a result you were able to reduce costs, find new capacity and improve your responsiveness to your customers. Your example is one to be emulated by other small manufacturers throughout Wayne County."
To learn more about this honor, check out the special award video put together by the Chamber for the event or stop by our Facebook page to see pictures from the exciting night!
Bruce loves to manage change and to encourage working environments where employees and customers thrive. His passion led him to found ODS – a highly practical leadership, trust and communication training firm and blog. He's a noted speaker, author, active church member and community volunteer. Bruce has led RBB since 2001, becoming Owner in 2007.