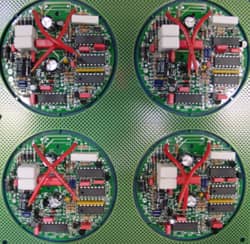 As a large batch contract manufacturer (LBCM), you have enjoyed a high level of success with your business. In spite of this, though, you may have experienced certain situations in which the help of a small batch job shop (SBJS) could have helped you to operate more efficiently and effectively. While you may know that this is true, many LBCMs are hesitant to enter into a partnership with an SBJS, as they are concerned that it will create customer conflict, and cost them money. Reality couldn't be further from the truth.
Large and small batch contract manufacturers were made to work together. By taking advantage of each other's strengths, both can grow their businesses, improve profit margins, and thrive. The key is in understanding and establishing exactly what type of a relationship you are hoping to have with your selected partner. Here, we will explore the 4 types of contract manufacturer partnerships, so that you can know what to expect from working with an SBJS.
4 Primary Contract Manufacturer Relationships
1. A Kit & A Deadline
This is, by far, the most straightforward of the LBCM-SBJS relationships. In this standard sub-contracting model, the end customer will only be required to work with one manufacturer. For example, you may have a respected client who has a small batch order. Unfortunately, your capacity is full with much larger orders that demand your attention. You don't want to lose the client, so you sub out the work to an SBJS. In turn, your partner may come to you with a client who needs an order fulfilled that is much larger than their normal batch size. In either event, the owner of the customer relationship will be the only party to interact with the end customer. The customer is invoiced by their contract manufacturing partner, and the true assembler for the job invoices that partner. The key to this type of relationship is understanding that each individual order is handled as a one-off engagement. Neither party makes a long-term commitment, but instead utilizes the other's capacity to deliver for their customers.
2. Product Line Steward
As with the Kit & Deadline model, in a Product Line Steward relationship, the end customer will only deal with one manufacturer. The difference here is that your partner company will be specifically handling orders on a set product line. Any and all demand for that product will be sub-contracted to the partner, meaning that the relationship must be very flexible and fluid in order for orders to be completed in a timely and consistent manner.
3. Hand-off & Hand-back
When you enter into this type of a relationship with a small batch contract manufacturer, all of the work with a particular customer is handed off to the partner company. For instance, you may have a new client that has only small batch needs now, but has potential for larger-scale work in the future. You don't have the time to attend to these small needs, so you pass the client off to your SBJS partner with a contract that specifies when and how the client will eventually be handed back to you. Often this is based upon batch sizes or a dollar threshold.
4. Service Partners
This partnership model is perhaps the most difficult to establish and maintain of the four. In this scenario, you may take on a client where the understanding is that they will be in regular need of both large and small batch orders. To ensure that all needs are met, you work to divide the customer's demands with the partner company, essentially "sharing" the client. In order to avoid competition and bad blood, it's important to work with a trustworthy SBJS, and to clearly set boundaries with regard to who will be given what type of work. This model is ideally suited to those clients which neither party could attract on its own.
When you understand the type of ongoing relationship you can have with your SBJS partner, you can enter into an agreement with total confidence.
If you're a LBCM and are thinking about how you might apply one of these models in your business, check out this video on handling your small batches more profitably.
Bruce loves to manage change and to encourage working environments where employees and customers thrive. His passion led him to found ODS – a highly practical leadership, trust and communication training firm and blog. He's a noted speaker, author, active church member and community volunteer. Bruce has led RBB since 2001, becoming Owner in 2007.