Whether you are looking to buy or sell custom electronics, it is important to have a clear understanding of attributes to the cost of a printed circuit board assembly (PCBA). Some of the biggest cost drivers include, but are not limited to, the following:
1. Technology Used
Surface mount (SMT)
Through hole
Mixed (both)
2. Part Locations and Spacing
Top side only
Double sided (top and bottom)
3. Total Number of Placements on the Assembly
4. Package Size of the Components Required
1206
0804
0603
0402
0201
Smaller?
5. Packaging of the Components
Reel
Tube
Tray
Cut strip with or without a leader
Loose in a bag
6. Processes Required
SMT pick and place
Through hole auto insertion
Through hole slide line
Wave solder
Automated Optical Inspection (AOI)
X-ray
Selective solder
Hand solder
General assembly
7. Quantity and Batch Size(s)
8. Special Part Preparation Requirements (i.e. lead length, height min/max, spacing)
9. Total Cost of the Complete Bill of Materials (BOM)
10. Bare Board (PCB) Layer Count and Material Used
11. Coating Requirements (if any)
Spray or brush
Number of coats
Coverage tolerances
Specified keep out areas
12. Potting Requirements (if any)
13. Assembly Compliance Requirements
RoHS (lead free)
Non-RoHS (leaded)
IPC-A-610D Class I, II or III
ITAR
14. Test Requirements
Power up
Functional
In Circuit Test (ICT)
Thermal cycling
No test (visual inspection only)
15. Shipping Requirements
Standard ESD (electrostatic discharge) bags
Non-standard/special containers
16. Delivery
Standard turn with no expedite requirements
Expedited quick turn (labor and material costs are affected)
The most common instances are when parts are located on both sides of a board when the real estate is available to have them on one side, or when a new technology (through hole or SMT) is introduced into a design when it's not necessary. Another common issue is when an assembly is quoted using customer supplied parts for machine placement (cut tape with leaders, reels, tubes, trays), but end up being provided in other forms (cut tape with no leaders, loose in bags). As a contract manufacturer it's essential to communicate all of the circumstances that add cost, so there are no surprises.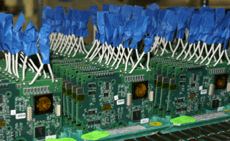 As a contract manufacturer, RBB may not always be involved in the initial design of the custom electronics we end up building. However, the manufacturing feedback we provide to our customers has led to cost reductions and overall improvements of their design. The most successful projects are those where the engineers at our customer are engaged with RBB manufacturing engineering up front. Trust and open communication have altered many designs for the better over the years that I've been with RBB.
When taking all of the different aspects of a printed circuit board assembly into consideration, it is clear that bridging the gap between design engineering and the goals for purchasing completed units becomes all the more critical. The application of the printed circuit board assembly often drives its design and layout, but understanding what has the potential to add cost can only help in the end!