Recently, my wife and I joined 14 others from our church on a mission trip to Guatemala. While there were many uplifting spiritual rewards for both the givers and receivers of this grace, in this post I'd like to share several key business lessons that emerged as well.
Go Away, the Team Will Do Just Fine
For leaders, the strength of the team minding the store back home is always a concern. Being away has many advantages, not the least of which is to remind us that others can and will step up in our absence. While on mission I shut off my smart phone 24/7. I realize that not everyone has this option… but my challenge to you is: how come? Is it them or you? Thought so. When we don't have the confidence to be completely away, what are we saying about our team? Ourselves?
More Stuff = Less Meaning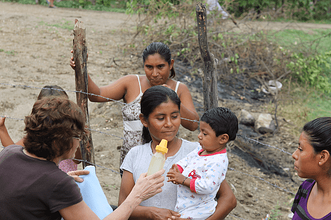 Over 70% of Guatemalans live in extreme poverty. Naturally, I expected them to be miserable but boy was I wrong. I witnessed (and tried to ease) some truly heartbreaking need. Yet on a daily basis the joyous spirit of the locals reminded me that it is we who live in plenty who often miss out.
Rather than make a trite observation here, an honest question is: "Would I switch places?" Never. But fresh eyes revealed that many of the pursuits and obsessions of my life can be distractions from meaningful humanity. In other words, I finally read the fine print and witnessed the hidden costs of the contract I've been living under.
Without (Ethical) Profits, There Are No Funds to Spread Around
There is an undercurrent today suggesting that profits are a bad thing; given our economic times, I get it. But successful businesses must make no apologies for making money. Companies should hold their heads up and compete to win. We serve our customers and provide livelihoods along the way.
But the mission field confronted me with this nagging issue: "And? So what?" Are our businesses as self-absorbed as our society? I think the answer is "less so every day." For example, the folks at TOMS donate a pair of shoes for every pair they sell. The 200 pairs of shoes we collected privately were matched by TOMS so that 400 people received shoes in one village alone. The experience left an indelible mark and quite a living example to follow.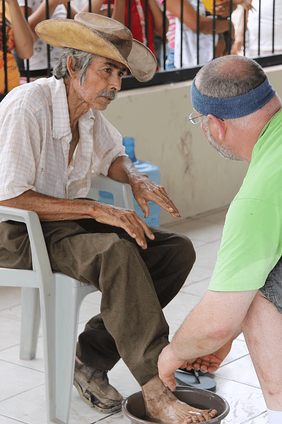 Communication is Not About Language
It's about connection with another person. Sure, the fewer language barriers that exist the better, but behavior and intent are the real keys. In fact, from the mission experience, they are enough. A smile and a lending hand go a long way.
There are people all around us, even at work, with whom we struggle communicating. We've created for ourselves patterns of thought that create needless barriers. It's time we checked our behaviors and intent. How do we act around them? Is it obvious to the other person that we want to connect with them?
It's a Big and Small World Out There
We can get so wrapped up in our tightly defined circle of life that we miss the sweep of world events. This is not new wisdom, I realize; I'm just a little late to the party. Technology informs us like never before but unless the news affects us personally, we often just keep moving. What else can we do?
We can make it personal, that's what. Our church is adopting that village in Guatemala. This means we are invested in what happens over there. We now know the villagers personally and are committed to improving their conditions one step at a time. It brings our big world down to a size where we can make a difference.
Bonus Lesson: Be Careful Where You Take Your Spouse.
She/He may make a new best friend who's 3,000 miles away. It'll cost you.
That time I went on a mission trip and came away with a bunch of homework… I thought it was us who were serving them. Yeah, not so much.
For more information on Guatemalan missions, visit Hope of Life International.
Bruce loves to manage change and to encourage working environments where employees and customers thrive. His passion led him to found ODS – a highly practical leadership, trust and communication training firm and blog. He's a noted speaker, author, active church member and community volunteer. Bruce has led RBB since 2001, becoming Owner in 2007.