Recurring small batch electronic assemblies. That's what RBB does, day in and day out. Each of those days filled with a variety of unique jobs, assemblies, customers and suppliers. While it's fun to blog about the ways RBB uses online marketing, the expos we're attending, or the difference between large and small batch contract manufacturers... I found myself very curious about the nitty-gritty details regarding the actual assembly of our circuit boards.
What goes on in that busy shop each day? What does it take to assemble circuit boards? How does one ensure proper testing? So many questions, so few answers... until now! First in our Job Shop Q&A blog series is Jennifer Simmerman, a Quality Technician for over two years at RBB.
Can you tell us a bit about your background?
I have an Associate degree in Engineering Design and before coming to RBB I worked at a company called InsSource Technologies in Paulding, Ohio. I started out in the wire harness shop, moved to circuit board assembly, then did basic troubleshooting and rework.
How did you get into the field of electronics?
The crazy thing is, while going through college I wanted nothing to do with the electronics part of my degree. I took the classes I had to and then moved on. I really loved the CAD, design and architectural part of engineering. Once I graduated it was pretty tough finding a job and after working a few odd jobs, I began working in the electronics industry and absolutely fell
in love with the field. And that's how it all started.
Can you describe your job and daily functions for us?
Though each day and each job is something different, I calculate first pass yield for through-hole assembly and check the shipping photos from the previous day (we take digital pictures of each small batch that we ship as an extra quality measure). I perform First Run Audits (Final Quality Audit) of new products before they ship. I break down router packets and distribute items that need updated. I then process non-conforming material and documents and provide technical oversight when needed. Lastly, I maintain documents for our online control system.
What are your top things to look for when inspecting circuit boards?
Perform an AQL inspection.

Check the PCB's to print, which usually includes; rev, material, hole sizes, finish, mask color, thickness, silkscreen color etc.

For the quality of the PCB's look for: bow/twist, any defects or damage, finish and mask quality.
What the heck does "blacktopping" mean?
"Blacktopping" is a counterfeit process where a blacktop coating is used to mimic the texture and color of the original component surface and is painted or sprayed onto the top surface to cover the sanding marks. The counterfeiters then re-mark the component with a legitimate-looking manufacturer's logo, part number and lot/date code. Our X-ray system helps us identify counterfeit parts - which unfortunately is a growing challenge in our industry.
How do you ensure proper testing?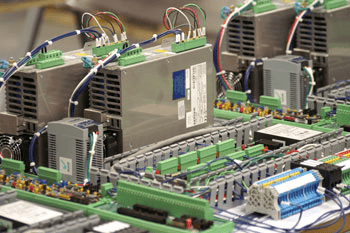 We have certifications for all calibrated equipment and everything is calibrated once a year. Each stock code has a test procedure that the tester follows. Any pass or fail results and defects are documented on a Defect Tracking Sheet for each job - and this information is fed back into the assembly process so we constantly improve.
Why do certain boards get inspected?
All PCB's get an AQL inspection or more if specified. We inspect everything; obsolete components, components from approved brokers, mechanical parts, custom parts and any items that are required to be inspected.
How do you find reputable suppliers?
All of our key suppliers are ISO certified. When considering new suppliers, they must complete a Supplier Assessment/Audit and Supplier Self-Assessment Form that is returned to us with all certifications including ISO, ROHS, ITAR, EAR etc. We prefer they are certified in these not just registered. For Independents and Brokers, RBB's Buyer/Planner also checks to see if they are members of IDEA or ERAI which is very important in today's society of counterfeit parts.
Kara enjoys all things marketing. She works full-time at a non-profit organization helping develop and manage online marketing, driving brand awareness, engagement and traffic to social media pages and the company website. She enjoys traveling, learning and meeting new people.