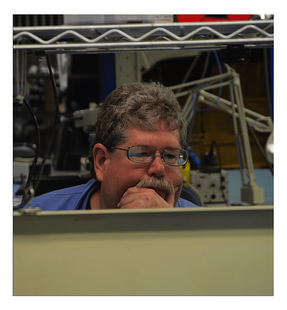 I was asked to write another blog post and at first I really wasn't sure what to write about. I share my time handling products returned for repair, assisting engineering on quotes, visual aids for production, component identification/substitution and answering questions about component programming and product testing.
I decided I would share some of the recent tasks that I have worked on. I am often asked for my opinion on how to solve a problem - and problem solving is something that I enjoy. Since we make so many small batch items for different customers, there's ample opportunity to work on solutions for many different problems.
Product Damage
One of our recent issues was heavy products getting damaged during shipping. A large circuit board was damaged even though it was packed into a box and then placed in a second box with cushioning between the boxes. I worked with shipping to find double wall versions of our shipping boxes and use foam insulation that we already carry for durability.
Optical Sensor Failures
A few recent repair items that were interesting (at least to me) included a customer using an optical sensor that appeared to fail during their installation and test. After reading the data sheet, I decided to email the sensor manufacturer. They confirmed what I had originally suspected; the material covering the sensor was acting as a reflector, thereby giving a false reading. Ultimately, we were able to pass this information to our customer to better help them decide how to reconfigure their product.
Bare PCB Failures
Another circuit board return noted that the +5 volt line was shorted to common, causing the unit to fail. Since we perform a test on the power supplies on this board, I was surprised to see this type of failure. I started to investigate by visually inspecting the board, then measuring the paths in question with a meter and found that the board was in fact shorted. There weren't many parts between +5 volts and common so I decided to remove them to identify the failure. Once all the parts were removed there was still a short. This pointed to a failure of the bare PCB even though the board was electrically tested when it was manufactured.
I then turned my attention to a ground screw installed per the customer specifications in a mounting hole using star style washers to prevent slippage. I examined the layout of the foil paths with a software viewer for Gerber files that are used to specify PCB foil layers and found that both +5 volts and common paths came very close to the mounting holes. It turned out that the washer was compressing the board enough that it could cause a short. We recommended a larger keep-out area on the +5 volt layer for future circuit board orders and flat washers to be used on existing boards to help distribute the loads.
Hand Control Issues
A third repair consisted of several hand controls of a circuit board with a connecting cable installed into a plastic housing. There were various problems ranging from the housing coming apart to not working when received. We utilized a few different solutions. First, I made a test fixture that could easily be used during assembly to catch incorrectly wired connections, defective cables from the supplier and defective components, all of which were a part of the problem. The customer additionally informed me that they were changing the design that used glue as part of the case assembly to screws that would provide easier assembly without the need to glue the cases together.
There have been other notable problems that I have worked on recently, some with easier solutions than others. Our solutions are as varied as the problems that we encounter and sometimes you don't really know how successful they are until they have been applied for some time. In the end, it provides for interesting work and a multitude of different opportunities to help our customers succeed.
Jeff has worked for RBB Systems since 1998 and previously in the late 70's to early 80's. He is currently handling service and is part of the engineering support team. In his free time, Jeff enjoys movies (especially the drive in), problem solving and a good steak off the grill.