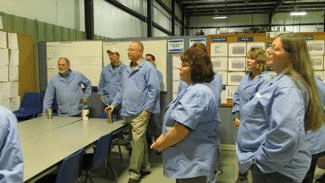 One of the most important aspects of circuit board manufacturing is the ability to efficiently and cost-effectively quote orders. For us at RBB, we swarm to the need as soon as a RFP is received. Many different things simultaneously occur, most of which may sound familiar to fellow small batch electronics manufacturers.
Engineering reviews the customer-supplied documents, anticipating potential assembly problems and making recommendations to prevent them. This is where we generate labor.
Engineering gets started on reformatting the customer's BOM into a form that is both readable and usable.
Purchasing dives in and gets competitive component pricing, lead-times, and supplier minimums and multiples.
Sales coordinates the team via daily "huddles" to keep things moving, relay information to the customer and prioritize where necessary.
When preparation is complete, our sales department issues our formal proposal. Since the PCB assembly information is stored in a central location, orders flow smoothly upon arrival. But what happens once the new product order has officially launched?
Effective New Product Launch Process For Each Custom Electronics Order
It's essential to do the following:
Confirm Whether Changes or Revisions Have Taken Place Since Proposal Was Presented.
What type of changes or revisions usually happen? Revisions consist of changes to the BOM and/or bare boards that could affect our quoted unit pricing. Whether the product is to be run on the SMT equipment or not, we compare the quantity of boards ordered with the proposed PCB panelization and make adjustments if needed.
What's proposed panelization? What type of adjustments? Proposed panelization is how many bare boards are in one array (i.e. 2-up, 4-up, 10-up). The quantity of a customer's order should divide equally into the PCB array size. Contact suppliers ASAP to update component lead-times and place orders for long lead-time items (which have very likely changed since proposal time). Any tips for talking to suppliers? Our materials purchases are driven by MRP (material replenishment process) after a new BOM is created and released by Engineering. Conduct a formal Kickoff Meeting in which tasks are assigned to operations staff.
Study the Circuit Assembly and Reserve the Necessary Labor
What type of necessary labor? Each assembly involves different technologies (SMT, Through-Hole, Both, Mechanical Assembly) and requires different work centers to complete.
Schedule the First Production Run
Ready the Special Color-Coded "First Run" Shop Router
Colored sheets/assembly aids are created by the assigned Engineer, and are specific to the assembly being built. The assigned Buyer gathers the necessary project documentation for the router used in manufacturing. First Run routers are printed in a unique color for ease of recognition
Confirm Special Packaging and/or Shipping Plans
What are special packaging/shipping plans? First, ensuring required shipments are make in ESD (electro-static discharge) protected bags. Special packaging may involve a custom box in which product must ship. If no special packaging is required, standard corrugated boxes are used along with bubble wrap or packaging peanuts.
So there you have it! Does your product launch process look similar?