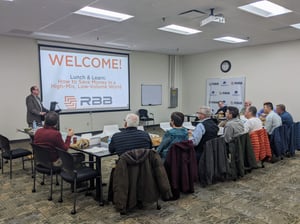 We have already hosted two great sessions in our 2019-2020 Lunch & Learn series, "How to Save Money in a High-Mix, Low-Volume World." Due to the current situation, our next session will be held in July via Zoom. This session, titled How to Reduce Bare Board (PCB) Costs, will be presented by Jim Thompson & Bob Keisler from National Technology Inc. Jim & Bob will examine board design, cost drivers, and other factors to consider when designing your product.
All are welcome to attend- please pass this invitation to your team members & colleagues!
The overall goal of this series will be to educate RBB's partners on how to save money in our high-mix, low-volume PCBA (Printed Circuit Board Assembly) industry. Each session includes a presentation from RBB team members or suppliers, FREE lunch (All Zoom session pa
rticipants will receive a gift card for lunch on us as our gift for attending), questions, and networking.
All sessions will be held at RBB (1909 Old Mansfield Road, Wooster, Ohio 44691).