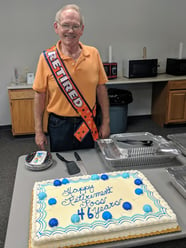 After 46 years, Ross Lilley has announced his retirement from RBB, effective August 30, 2019. Ross shares these thoughts as he looks back:
"I leave RBB knowing that it is in a very strong position to expand as "The Small Batch Experts". I have no doubt the company will continue to grow for the next 46 years.
1973: The Early Years
In 1973, three college friends (Barry Romich, Dick Beery, and David Bayer) started working together in a basement.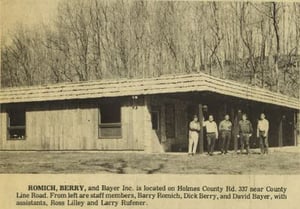 In the Spring of 1973, they started construction of office/manufacturing facility on a 160-acre farm in northern Holmes County. In June, I was a student from the electronics class at the Wayne County Joint Vocational School (now the Wayne County Schools Career Center) and I stopped by the construction site looking for a job. They offered me a job helping them finish construction of the facility. That job turned into a very rewarding 46-year career. During that time, I raised my family and received my Business Management degree from the University of Akron (with financial assistance from RBB).
In the first 10 years, the business was built upon referrals and contacts within the business community that the three principal founders had formed during their previous employment.
The work centered on the industrial system needs of local companies, mostly centering around a line of logic cards that was developed by Dick Beery. (This period was before PLCs and microprocessors!) This was the start of RBB being involved in both the systems and electronic assembly worlds. We were able to do the electronic designs required as well as etch the boards, assemble the system, and install it at the customer's site.
The business continued to grow and RBB became well known in Northeastern Ohio.
In 1982, after almost 10 years in business, Barry was bought out and turned his efforts to Prentke Romich. David purchased the assets of the wheelchair profit center, kept the shell corp. of Romich, Beery, and Bayer, and formed Du-It Controls. Dick purchased the land, buildings, inventory, equipment, and officially changed the name to RBB Systems, Inc., "R," "B" and "B," for the first initial of the founders' last names.
Because I enjoyed working in Industrial Controls, I chose to stay with Dick as part of RBB.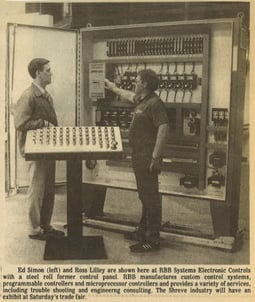 RBB began to expand by adding sales and engineering staff. Four key areas of the business developed: Engineering, Systems Integration, Electronic Assembly, and Service.
In 2000, RBB completed a facility consolidation at 4264-C East Lincoln Way, Wooster, and the Shreve facility was shut down in 2007.
In 2009, Dick Beery retired after many years of serving RBB.
In 2010, I helped RBB received ITAR (International Traffic in Arms Regulations) registration from the U.S. State Department, allowing us to serve the needs of customers who provide material for Military applications.
Always evolving, in 2012, RBB was the recipient of the Smart Business "Evolution of Manufacturing" Award. In 2013, RBB received the Leading-EDGE Award for Value Creation in Northeast Ohio and celebrated 40 years of business.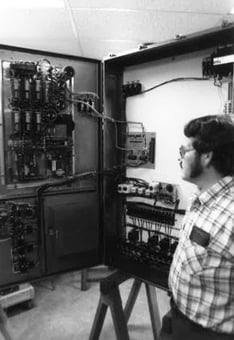 In my time with RBB, I have worked as a Bench Technician, Panel Technician, Field Service Technician, Panel Shop Supervisor. After returning to college, I received my certification as a Senior Professional in HR and became the HR Director. After several years in HR, I returned to the Industrial Controls side of RBB as a Sales Engineer/Panels Specialist, while continuing to be the companies Compliance Officer.
This 46-year-old company has seen many peaks and valleys in its history. RBB has weathered the good and the bad times throughout these years and is poised for the future. From the basement of three engineers to our current facility at 1909 Old Mansfield Road in Wooster, RBB is a 46-year story of success.
During my 46 years, RBB has continued to support my participation in many civic and community functions. I have served as an advisor for the electronics class at the Wayne County Schools Career Center, the Adult Industrial Electrical Program at the Ashland West Holmes Vocational School and the MEMS (Micro Electrical/Electronics Systems) program at Lorain County Community College. I have also served as a member of The Wooster Chamber of Commerce, Wayne Area Safety Council, Holmes County Safety Council, Wayne Area Human Resource Association and Red Cross.
I leave RBB knowing that it is in a very strong position to expand as "The Small Batch Experts". I have no doubt the company will continue to grow for the next 46 years."
Read reactions from the RBB team in this blog post, hear more from RBB team members in this video, and see photos of Ross over the last 46 years in this slideshow!
For forty-six years at RBB, Ross has done just about all there is to do with industrial technology. He will be missed by the RBB team!