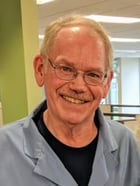 After 46 years, Ross Lilley has announces his retirement from RBB, effective August 30, 2019.
Ross started at RBB after graduating from the Wayne County Career Center with a focus in electronics in 1973. He was the 5th employee of the newly-founded Romich, Beery & Bayer, founded that same year.
Through the past 46 years, Ross has witnessed every season of challenge, growth, change, and success at RBB. His steady and knowledgeable style has always been a favorite of clients, teammates, and community members alike. Ross has worked as a panel technician, supervisor, project specialist, HR director, compliance officer, and sales engineer.
Most importantly, every person who has walked through RBB's doors has been positively affected by Ross' servant attitude. To say that Ross will be missed is an understatement: RBB will be changed. The Ross Lilley Era is coming to a well-deserved end. RBB wishes Ross as his wife Mary a lifetime of retired bliss as they begin the next chapter of their lives!
Read more from Ross as he looks back on 46 years of service in his last RBB blog, hear more from RBB team members in this video, and see photos of Ross over the last 46 years in this slideshow!
RBB Team Members Remember Ross
The RBB Team offered these words on learning of Ross Lilley's retirement. As you can see, he is loved and respected by the entire team!
"Ross, you know that we are going to miss you terribly here, with you knowledge and friendship. It is going to be hard, but we are so happy for your new adventure. We will miss you and all of your tribal knowledge. I can't say any more or I'm going to cry!"
-Patti Armstrong, Client Liason
"There is no way I can possibly summarize the past 19 years working with you at RBB. You have been a steady hand the whole time, doing everything there is to do at RBB. You have been a great example for all of our clients, our employees, and the community. You are bedrock RBB. I am very happy for you."
-Bruce Hendrick, Owner & CEO
"Best wishes to Ross! Thank you for everything you have ever done for each and everyone of us!"
-Kelsey Blair, RBB Shipping Specialist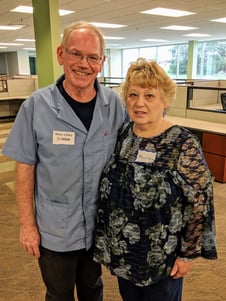 "Wow Ross congratulations I hope that you and Mary enjoy retirement. Don't forget to stop out and see how we are doing every so often. May you have fair winds and following seas."
-Edward W. Blackburn, RBB Production Manager
"Thanks Ross for being the good person you are. You'll be missed around here, but glad you'll have the opportunity to have an enjoyable retirement. Stop by and see us on occasion."
-Steven Smail, RBB Recieving Specialist
"Congratulation on your retirement - I wish you were taking me with you! I can't thank you enough for your detication, work, help, and everything you have done to make RBB what it is today. We will miss you every single day, but especially your stories. Come back and see us any time- you are welcome 24/7!"
-Micki Hendrick, Director of Finance and Administration
"To say that you will be missed is an understatement. You have left such an impact on everything that you did at RBB that it will be felt for years to come. Congrats, enjoy your retirement!"
-Amy Hart, General Manager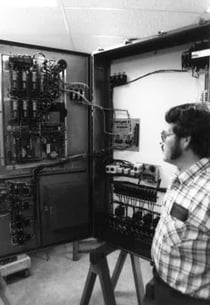 "46 years that is awesome- enjoy your retirement! You are truly and officer and a gentleman.:
-Brian Porter, Sales
"I know that I'll miss your face around here Ross! It's been a pleasure working with you on many things. I hope you find great pleasure in retirement and have many happy and healthy retirement years ahead!"
-Niki Ryan, Inspection
"Ross, I haven't met a soul as kind as yours or a hand so helping! Thanks for all your help and conversations over the years. I can't wait to see you in the future and hear how great retirement is going! Enjoy friend!!"
-Savannah Chastain, Test Technician
"Wow! Is it that time already? It has always been a pleasure to work with you. It will truly be a different place around here without you. Stay healthy and have a fun and wonderful retirement!"
-Dave Hill, Stock Room
Read more from Ross as he looks back on 46 years of service in his last RBB blog, hear more from RBB team members in this video, and see photos of Ross over the last 46 years in this slideshow!
For more on the history of RBB, check out this blog Ross wrote on RBB's 40th anniversary!