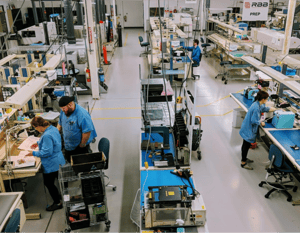 Does your PCBA manufacturer have heroes? At RBB, we do - every day!
One of our core values is "Move Heaven and Earth." This is how we live our daily lives. We swarm to the need each and every day, getting our small batch printed circuit board and industrial control panel customers what they need when they need it.
Some examples of swarming to the need include:
Employees staying late to apply RTV so that it has time to cure for a shipment the next day.
Running an order through Surface Mount the same day we received the purchase order to get a client a one-day turn.
Missing breaks to package product just in time for the delivery truck.
Driving to our suppliers to pick up raw material needed for an expedite.
Coming in Saturday to make a delivery for a client that has a line down.
You may even see the owner pitching in to make it all happen.
While I can brag about our service and responsiveness, our success has really been proven through our consistency. Life in a build-to-print, contract electronics manufacturing facility has to look a bit different. The mix of technology and complexity is unpredictable and changes daily. To do what we do in a low-volume, high change-over environment we need to adapt to these conditions.
Employees at RBB are onboarded knowing they will need to be versatile and trained in many tasks to be successful. We invest heavily in our team, training in multiple areas and equipment to allow them skills to move with the product as it flows through our manufacturing facility. This helps to clear bottlenecks that may develop, keeping the product flowing consistently. All this helps reduce lead time and get our clients what they need when they need it.