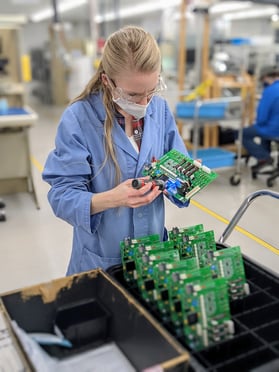 Whether you are shopping for a new car, a pair of shoes, or a contract manufacturer, the quality of the item or service matters. Where you spend your money is important and the product you receive should be worth what you pay for! Most companies, brands, or products say they hold high standards and good quality, but do they? There is inherent skepticism when a company claims to have "high-quality," since that value can be characterized and defined in different ways.
But at RBB, our first-rate service and products are something we are proud of, and we can prove it!
To be a high-quality company, the clients and their needs must be at the center of what we do. Each department at RBB, including engineering, production, service, quality, and sales, all work to best serve our clients.
Great Value is Proven
In the electronics industry, what constitutes a superior company and product?
Personalized and client-focused business.
Detailed examination and review of client documents and data.
Repair warranty and service.
Assistance with sourcing hard-to-find components.
Certifications and testing capabilities.
How does RBB implement these practices?
Experts at Work
High-quality companies hire high-quality people, such as RBB's Senior Engineer Steve Baker and Quality Assurance Specialist Jennifer Simmerman. Baker has worked at RBB for 40 years in every area of the business. Simmerman works in the quality department to improve and maintain the procedures and processes that take place during production.
Baker, Simmerman, and their teams provide excellent customer service to our clients, even behind the scenes. What does this look like at a high-quality company?
"They (clients) are able to talk to anybody in production, engineering, and quality," said Baker.
How Can We Assist You?
We pride ourselves on offering excellent customer service.
"We are a small company with people who have worked in the business for years," explained Baker. "The customer is able to talk to each one of us, so we can provide a more personal experience."
This begins with RBB's Client-Centric Teams. These teams are paired together, a Client Liaison, an Engineer, and a Buyer assigned to each client. These teams collaborate to find efficient ways to solve customers' problems and build their products. This collaboration guarantees a seamless quoting and manufacturing process. Our Client Liaisons often hold weekly meetings with customers to give status updates, work through issues and discuss upcoming projects.
"We work with the client throughout the project. If they happen to change something or want a design change, we work with the customer on that. We build to the customer's BOM and the parts that they use. Sometimes that is where the cost is higher so, we will provide that information and substitute parts with their approval." Baker said. "We have the willingness to make changes based on what the client wants, on the fly."
At RBB, we are problem solvers. RBB can offer services to clients that other contract manufacturers may shy away from.
"We can assist the client in their final design work or if there is a problem with their Gerber files. If it is pretty simple, we will work with them, and clean them up so that the board house can use them to produce the circuit boards," said Baker.
The service department aids the client with both warranty and service items, evaluating and troubleshooting boards they send to RBB for repairs.
"We stand by our work. We have a 1-year from the date of shipment warranty on all our products. If the boards are out of warranty, we will give the customer an estimated cost before any work is done," said Baker.
Can We Help Source Hard-To-Find Components?
RBB can also alleviate the stress of sourcing components, something we did even before electronic components were increasingly hard to find.
"That is a pretty common thing anymore," said Baker. "With a lot of the older products that customers bring to us, a lot of the parts are obsolete, and we have to assist them in finding substitutes. That is one of the things we do for the client. We will also find substitutes for long-lead parts with the customer's approval. We also do a lot of legacy work for our customers."
This legacy work will often require creative solutions to either replace or obtain the necessary components that are hard to find.
There is a synergy between the client and the RBB team when we are faced with the current supply chain issues.
"RBB was very supportive in our efforts to find another source for a hard-to-find component," said an RBB client recently. "The team did an excellent job of expediting the part through RBB production. Very pleased with the overall experience."
Licensed To Build!
In the electronics industry, there are certifications and requirements that must be met. RBB follows the J Standard, or IPC J-STD-001, is certified in ISO 9001:2015, and has a UL508a certified control panel shop.
We hold all our client's assemblies to high standards.
"We build to IPC-A610 Class 2 unless a client wants us to build their board to IPC-A610 Class 3," said Simmerman.
"We have certified trainers on the floor and every two years you have to be re-certified," added Baker.
"We can build to be ITAR, EAR, and RoHS compliant. We will provide the certification of compliance and certificate if it is required for RoHs."
One way that we sustain good practices is with our quality department.
"We perform internal audits every year and are ISO certified," said Simmerman. "We also perform in-process audits periodically. This is when the quality department will randomly check products throughout the year. This can be on an assembly, on a process, on a certain part, or an area that we have had a problem with."
If a client requires their product to be tested, we can provide them with special and certified testing.
"Every work center gets a first piece inspection on any order before moving to the next work center," explained Simmerman.
The experts at RBB can perform equipment programming, environmental chamber testing, burn-in testing, the writing of assembly and test procedures, and design/assembly of functional test fixtures, among other services.
"Every board is visually if not in-circuit (ICT) tested, before being shipped out," said Simmerman.
"The testing is a little extra, but most clients require it. They will provide the test fixture, or they can have us design and build the test fixture to test their boards. We do that quite often with a lot of our clients. They often will provide the test procedures, such as: what kind of load to put on it, how long to test it, if there is any burn-in," Baker explained.
Small Company, Big Relationships: RBB Customer Service
Is personalized and attentive customer service a factor in determining the quality of a company? Many consumers would say so!
Hear it for yourself! Our clients have recently told us:
"The people at RBB are just extremely accommodating. You do exactly what you say you're going to do."
"RBB has been great communicating with us and giving us options when we were running into supply chain issues. We appreciate everything you have done!"
"We are very pleased with the product we receive from RBB. I would not hesitate to recommend RBB to anyone that could use your services."
"RBB has done great work for us. I have always been able to set up a meeting and have had great customer service from RBB."
"Everybody that I've worked with [at RBB] is first-rate; knows what they're doing and seems to be experts in their subject matter."
High quality in the electronics industry is embodied by RBB, from the customer service to the detailed and passionate attitudes of the team members. We work to move heaven and earth to make sure our clients get what they need when they need it. If you are ready to begin a relationship with a high-quality, client-oriented contract manufacturer, contact RBB today!