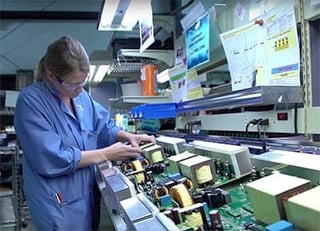 Located in Wooster, Ohio, RBB is excited to celebrate this year's Manufacturing Day on Friday, October 7th. As a manufacturer of electronic circuit boards for clients with large portfolios of small batches of custom electronics, RBB is better known as The Small Batch Experts.
The video below highlights President of RBB, Bruce Hendrick, describing the varied functions of the company and the RBB philosophy toward being a positive corporate citizen in the Wayne County, Ohio, region. Career opportunities vary at RBB; currently there are several recent high school graduates that receive on the job training and can accomplish their jobs with success straight away after graduation.
Do you possess the knowledge, interest, and attention to detail that it takes to work for RBB?
RBB, A Multi-Faceted Employer
As a philosophy, RBB hires and trains individuals with high school or trade school diplomas for assembly functions. RBB looks for motivated individuals with some knowledge and interest and are committed to the opportunity to learn even more. On the technical side, RBB hires qualified and motivated engineers to handle the operational and planning side of the business. RBB also recruits professionals for customer liaison, buyer and manager positions to run various departments within the company. To maintain success, RBB knows that planning, flexibility and close coordination within the team are critical to managing their broad portfolio of small production projects.
As part of the inaugural group of manufacturers who participate in Manufacturing Day, RBB looks forward to continuing their involvement each year. It brings great joy to see the whole community come together, knowing that manufacturing is a vibrant part of the area.
"We love hosting Manufacturing Day – it's our third straight year. It's a terrific chance to show the inside story of RBB and other great Wayne County companies to local students. Grabbing their attention and excitement early is a whole lot of fun for us." - Bruce Hendrick