What makes RBB an industrial control panel assembly expert? The benefits really stack up when your industrial control panels and electronic assemblies are built by the same expert team.
RBB has more than 45 years of experience building industrial control panels, including pneumatic and hydraulic controls, for all types of businesses. But what is the benefit to your business when you use a UL 508A certificated contract manufacturer?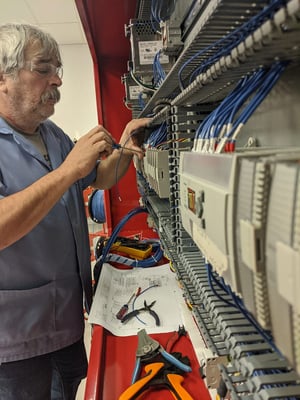 The UL Mark is one of the most recognized, accepted, symbols in the world. It shows that UL has evaluated and tested samples of components used in your industrial control panel. You know when you use RBB that you are getting high quality work that will hold up to electrical inspections.
The UL 508A Listing Mark on an industrial control panel provides evidence of third-party certification to the municipal inspection authority and to the purchaser of the panel. A UL 508A Listing Mark shows that the panel complies with an acceptable safety standard.
Benefits of selecting a supplier with the UL 508A certification include:
For control panel to carry the UL 508A Listing Mark, the panel must contain only UL recognized and listed components. The UL Mark on a component means that UL has evaluated and tested samples of this component and has determined that they meet the UL requirements.
UL 508A certification provides the inspection authority and our clients evidence that the control panel complies with nationally recognized safety standards. These standards provide assurance that the electrical control panel is compliant with the national and local electrical codes.
Manufacturers that carry the UL 508A certification are subject to periodic unannounced inspections of their facilities by UL personnel. Through audits of the manufacturers, UL can ensure the manufacturer continues to meet the UL requirements for 508A certification.
UL 508A requirements cover industrial control panels intended for general industrial use, operating from a voltage of 1000 volts or less. The equipment is intended for installation in ordinary locations, in accordance with the National Electrical Code, ANSI/NAFP 70.
RBB provides industrial control panels to clients with timeliness, precision and reliability. Find out why Akron Brass Company, a global leader in engineered life-safety products, views RBB as a trusted partner for their industrial control panels and not just another supplier.
To see RBB's Industrial Control Panel Shop in action, check out this 90-second time-lapse video that shows an RBB panel technician building a small operation station and its main control unit.